Expanded remaster of the classic album from Tuxedomoon lynchpin Blaine L. Reininger, originally issued by Les Disques du Crépuscule in 1984. On this, his first proper solo album, and touchstone work, Blaine was assisted by Sleepers guitarist Michael Belfer and recording engineer Gareth Jones. Other guest musicians include Steven Brown, Winston Tong and Marc Hollander.
The 10 core tracks include popular single Mystery and Confusion, and are joined by 6 bonus cuts. Crash, written by Reininger and Belfer in 1980 for Tuxedomoon, appears here in two versions, one a rare remix by The Residents. Full sleevenotes in booklet, with recollections by Blaine and Michael.
Tracklist:
1. Night Air
2. Birthday Song
3. Beak People
4. Mystery and Confusion
5. Intermission
6. Ash & Bone
7. L'Entrée de l'Hierophante
8. A Café au Lait for Mr XYZPTLK
9. Miraculous Absence
10. El Mensajero Divino
11. Mystery and Confusion (7" mix)
12. Bizarre Bizarre
13. Windy Outside
14. Broken Fingers
15. Crash
16. Crash (Residents Remix)
Available on CD and download. Liner notes. Original Another Side artwork.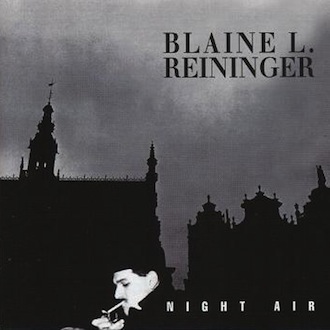 Reviews:
"A major album - highly atmospheric, steeped in mist and melancholy, and redolent of Dashiel Hammett and Tom Waits, or even Brian Eno with a latino croon" (Libre Belgique, 09/1984)
"Night Air seeks to combine modern classicism with a new approach to atmospheric chanson. Reininger is way ahead of his time" (Rock This Town, 06/1984)
"Pure chin-on-floor time. On Windy Outside, Reininger croons an alienated cowboy song on which gripping melancholy collides with Jack Bruce" (Time Out, 12/1984)
"Crash is a rare and marvellous achievement, and the only truly honest record of the week" (NME, 1980)