Commissioned by Les Disques du Crépuscule in 1983 (TWI 112), Moving Soundtracks is a collection of cover versions of movie songs and themes by the label's cosmopolitan roster, now expanded and updated for this remastered edition on CD and download. Original project produced by Blaine L. Reininger (Tuxedomoon).
Tracklist:
1. Blaine L. Reininger Le Mepris
2. Antena Les Demoiselles de Rochefort
3. The Pale Fountains We Have All the Time in the World
4. Paul Haig The Persuaders
5. La Muerte Experiment in Terror
6. Quando Quango Low Rider
7. Virna Lindt The Windmills of Your Mind
8. Thick Pigeon Moon River
9. Gabrielle Lazure A Childrens' Tale
10. Tot Taylor Blowproof
11. The Wayfarers Arabesque
12. Cosy Corner You Only Live Twice
13. The Dream Makers La Chanson d'Helene
14. Kerr and Langford Seabirds
15. Blaine L. Reininger Le Derniere Amant Romantique
16. Steven Brown Chinatown (Theme)
17. Be Music Theme (Hommage a MGM)
18. Alan Rankine Can You Believe Everything I See?
19. Snakefinger 8 1/4
20. Tuxedomoon Connie's Wedding
Cover image by Michel Duval. 20 tracks, 74 minutes of music.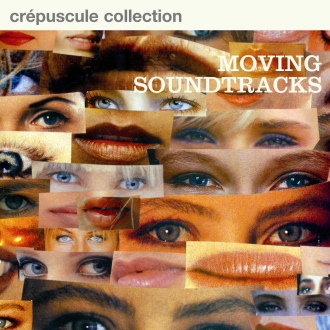 Reviews:
"Another key Crépuscule release reissued by LTM, this compilation finds a number of the label's key acts taking on their favourite cinematic and televisual soundtracking moments, beginning with Tuxedomoon's Blaine L. Reininger taking on Georges Delarue's classic 'Le Mepris' from the film of the same name. It's a fine rendering of the piece, drenched in the all-encompassing reverb effects you'd expect from an early eighties recording (the compilation was commissioned in 83/84). The Pale Fountains come up with a decent rendering of 'We Have All The Time In The World', while Cosy Corner's way, way out of tune rendering of 'You Only Live Twice' is novel if nothing else. The whole album is ace, but highlights come from Paul Haig's electronic take on the theme from The Persuaders and Virna Lindt's slightly camp version of 'The Windmills Of Your Mind'. Highly Recommended" (Boomkat, 04/2008)