twi976.jpg
Les Disques du Crépuscule presents the first ever vinyl release of Fidelity, the 1996 studio album by cult Manchester ensemble The Durutti Column.
Originally released by Crépuscule on CD only in April 1996, Fidelity featured 10 tracks written and performed by Vini Reilly, with occasional guest vocals by Eley Rudge. In addition to Vini's trademark guitar stylings, the album showcases sleek electronic textures and programmed beats.
This 2019 vinyl re-master features two bonus tracks: My Only Love was originally released in 1995 on a covermount CD with a specialist guitar magazine, while experimental piece The New Fidelity was issued on a Portuguese compilation album from 1992 called Hare, Hunter, Field.
Limited to just 1000 copies, this special double disc edition pressed in clear and blue vinyl features brand new cover artwork by Crépuscule design director Benoit Hennebert, based on a portrait by Vini Reilly of filmmaker Carol Morley.
LP tracklist:
A1. Fidelity
A2. For Suzanne
A3. Future Perfect
B1. Abstract of Expression
B2. G+T
B3. Remember Me
C1. Sanko
C2. Grace
C3. Storm for Steve
D1. Guitar for Mother
D2. My Only Love
D3. The New Fidelity
Available on digital (MP3). Vinyl edition is currently sold out. CD version available on LTM. To order MP3 please select correct shipping option and click on Add To Cart button below cover image, or else contact LDDC by email for other payment methods.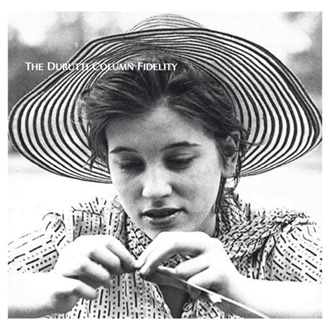 Reviews:
"Having dived into more familiar analogue territory for 1994's Sex and Death, here Vini Reilly transferred to Crepuscule for a slight return to the style of 1990's Obey the Time, which had found him exploring his native Manchester's contemporary electronic dance culture. This time Reilly was subtler, resulting in a lengthy collection that's aged considerably better. There are signs of the time, of course: shuddering vocal samples, alongside operatic melodies, decorate Abstract of Expression and his own voice, draped in reverb, is underpinned by a swaggering baggy beat on Remember Me. Sanko, meanwhile, dispensed with Reilly's trademark guitars in favour of skittering percussion and dreamy sequencers, while Eley Rudge's delicate vocals and those sequencers should have ensured Future Perfect's reputation of the early 00s chillout era. Rudge also softens the impact of the title track's battered drums, but the trumpet-embellished G&T displayed Reilly's Spanish influences more prominently. Overlooked at the time, Fidelity is hugely worthy of reinvestigation" (Classic Pop, 12/2019)
"Like a stopped clock, there have been moments when Vini Reilly's hermetic visions have serendipitously chimed with the times, the slo-mo beats of Obey the Time having briefly aligned him with the chillout boom. Fidelity, too, if full of shuffling breakbeats and floaty atmospherics, although beatless efforts G&T and the elegiac Storm for Steve are more classic Durutti. Reilly sings an appealingly woozy Remember Me himself, but his masterstroke is is recruiting the untutored Eley Rudge to front two numbers: the title track is a worthy lo-fi companion to Massive Attack's Protection, while Future Perfect is the purest pop song Reilly's ever written, the lyrics doubling as a neat summary of his stubbornly enchanting worldview. 7/10" (Uncut, 04/2020)
"Fidelity fuses chill-out room samples and beats alongside Eley Rudge's choirgirl voice on this rarely-heard gem" (Plan B, 03/2008)
"As with much Durutti Column, so much relies on the listener's mood, but this is both amiable and slightly edgy" (Record Collector, 04/2008)
"Despite the absence of a unifying sound the tracks work together extremely well, especially the frantic and rhythmic opening title track" (SubCulture, 03/2008)
"Fidelity is almost exclusively performed by Vini Reilly, with a few supplementary guest vocals by Eley Rudge. In addition to his signature guitar style, the album's sonic makeup owes much to an array of electronics, drum loops and synthesisers. Aside from a few wayward brass sounds in For Suzanne, this cocktail of digitally rendered audio and organic sound comes together in a fashion that actually slots into the preoccupations of current musical climes well, with thin, wispy echo devices coating everything in a kind of old-fashioned foggy aura that's entirely out of place with the analogue-favouring sensibilities of recent years. Of course now we've reached revisionist dream-pop saturation point in 2008, this all sounds a good deal more in vogue than it might have just a few months ago. Interestingly, one of the most compelling (most guitar-centric) pieces here comes in the form of bonus track My Only Love, originally issued on a cover-mount CD that came free with a magazine" (Boomkat, 02/2008)
"A more synthesized sound, but the good bits are still very good" (Exclaim!, 09/2008)